Nomadic Designer Toolbox: Tips, Services & Hacks
9-5 is fast becoming an outdated concept and has proven to be counter-productive for many creatives. Freelancers and location-independent designers are seeking for new ways to live, work and travel. The digital nomad movement has been around for some years now but just recently started to get serious traction. As a digital nomad myself I'd like to present my adventurous lifestyle whilst providing you with some tools and further information on getting started with your own adventures.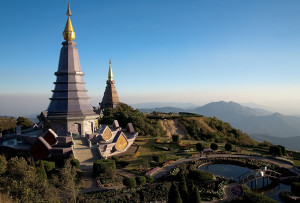 What is the Digital Nomad Lifestyle?
What if I told you that it would cost just $641 per month to live in exotic Chiang Mai, Thailand. For that you get cafés, incredible food and culture, compared to $4,854 per month in San Francisco or a massive $5,332 per month in New York? According to Nomad List, there are ten cities worldwide where you can live and work comfortably for under $1,000 per month.
Imagine how much you could see and experience, whilst saving up at the same time!
Our generation might just be the luckiest ever, especially if we look at things in relation to opportunities and freedom. I always dreamed about traveling the world, exploring places I'd seen on TV and in magazines while at the same time working hard to become a designer.
Then about half a decade ago it hit; the digital nomad movement began. Through publications like Tim Ferriss' The 4-Hour Work Week and Chris Guillebeau's The Art of Non-Conformity it became clear that 9-5 was becoming a dated concept for work and that the corporate ladder may not be the best choice for every career.
In the past year I've read a lot about digital nomadic adventures from Pieter Levels,Jon Yongfook and Noel Tock, I've been fascinated by the idea of traveling and working at the same time, especially since my skill-set and the work I do allow me to do so.
The digital nomad lifestyle is, in essence, a minimal lifestyle based on traveling the world and doing digital work, whether that be writing, designing, programming or anything else that necessitates being online.
Work Routine
Discipline and a sound work routine are the only way to get things done on the road. Moving through different time zones, unknown places and new cultures you will step out of your comfort zone, you will be excited, you will be terrified, sometimes you'll feel euphoric, sometimes lost and lonely.
Develop Your Morning Routine
For more than six months I've been getting up early no matter the time zone. At one stage that meant 6am; now I am rising at 5am, whether in Budapest, Kuala Lumpur or Los Angeles. I exercise five days a week, which helps me recharge my batteries and start each day with a clear head. I've started meditating, using guidance fromCalm, Omvana and currently Headspace.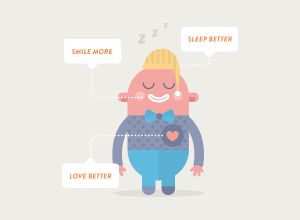 However, you don't have to become the early bird to get stuff done, I don't believe in the 9-5 routine in all cases; you are different and so am I. Experiment and analyse how you work, identify your peak hours, notice when you feel down. Plan your day to work smarter, not harder. I tend to be more creative and focused in the early morning, this is when I do most of my writing and designing. Emails and social media literally drain my energy so I usually leave those for the afternoon when I don't feel like doing creative work.
I highly recommend reading some of the My Morning Routine interviews where you will find hundreds of different routines from artists, writers, designers and entrepreneurs.
Where do Digital Nomads Work From?
There are many ways to get the job done. If you use Airbnb, make sure to ask your host about Wifi speed and alternative ways to get online. In many places in the world you simply can go to a coffee shop with free Wifi and work there.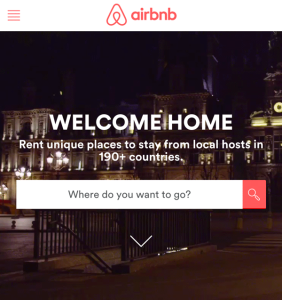 Cafés
Cafes 4 Nomads is a great tool for finding cafés to work from in Thailand and Australia.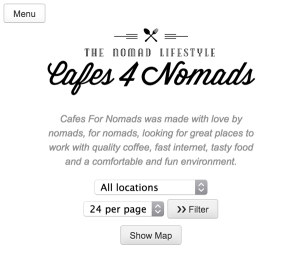 Workfrom lists places to work with an ability to filter results and find a place that is quiet or has food.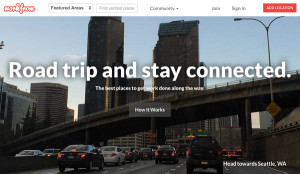 Work From Cafe has a huge collection of cafés around the world with short evaluations on service, food, wifi speed etc.
Co-working Spaces
Another very appealing option is co-working spaces. You don't just get a comfy place with fast internet and coffee supply but amazing like-minded people around you. I personally like Hubud, The SEA and LineupHub.
Copass allows you to work from hundreds of co-working spaces on the planet with one single membership. The freedom to work and connect to awesome folks anywhere.
ShareDesk marketplace provides a platform for mobile professionals to discover and book work and meeting spaces on the go–by the hour, day, or month.
Desk Surfing gives you the freedom to work where you want. And who you want to work with. Desksurfing is co-working at any given place.
Nomads to Follow and Learn From
Digital nomads are the types of people who explore and share their experiences and knowledge in order to help others who aspire to do the same thing. Their goal is simple; to inspire people to pursue something more than just an average lifestyle.
I can't benefit from digital nomads as "mentors" as they are spread out all across the world, but by reading and studying their work I am able to learn, conceptualise my own journey and expect the unknown from people who have been there. Digital nomads are eager to help if you ask.
Below is a list of people I recommend you start following, reading their blog posts and interacting with in order to learn more about their lifestyles. Entrepreneurs, writers, bloggers, designers, programmers, photographers; there are many different people to follow and be inspired by.
Jon Yongfook is a stylish entrepreneur running Beatrix, an app for social content discovery and scheduling. You'll love his 1 Year as a Digital Nomad - How to Build a Business by the Beach article with numbers, costs and experience running a startup from by the sea.
Source: NOMADIC DESIGNER TOOLBOX: TIPS, SERVICES & HACKS BLOG
Author: Tomas Laurinavicius
Referenced site: http://webdesign.tutsplus.com/articles/nomadic-designer-toolbox-tips-services-hacks--cms-23078